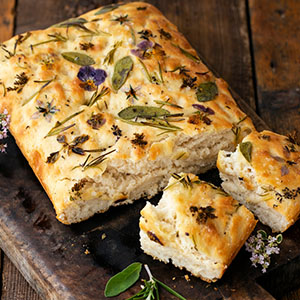 Beautiful Artisan Breads
USE YOUR $500 SKILLSFUTURE CREDIT
Fresh, crusty and deliciously rustic!
Master these homemade artisan breads by learning the essential tricks and tips from our bread experts.
Learn how to make 5 types of artisan breads:
Cranberry Walnut Sourdough
Rosemary Seasalt Pleated Bread
Foccacia Art
Chocolate Marble Brioche
Garlic Parmesan Rolls
DURATION
COURSE REFERENCE NO.
MODE OF TRAINING
Classroom + Practical (Hands-on)
Please note that bilingual classes are Mandarin-English.
For Courses Starting AFTER 1 Jan 2022
Self-Sponsored
Singapore Citizens
PR
Foreigner
> 40


Years old

21 - 39


Years old

$185
$285
$285
$535
Company-Sponsored
Non-SME
SME
Foreigner
> 40


Years old

21 - 39


Years old

$185
$285
$185
$535
Date: Tuesday, 16 & 23 Aug 2022

Duration: 2 Days (Once a week)

Time: 9:00 AM - 6:00 PM

Language: English

Venue:

Tai Seng Centre
Date: Tuesday, 16 & 23 Aug 2022
Time: 9:00 AM - 6:00 PM
Duration: 2 Days (Once a week)
Language: English

Venue:

Tai Seng Centre
Date:

Tuesday, 16 & 23 Aug 2022

Time:

9:00 AM - 6:00 PM

Duration:

2 Days (Once a week)

Language:

English

Tai Seng Centre
Date: Saturday, 27 Aug & 03 Sep 2022

Duration: 2 Days (Once a week)

Time: 9:00 AM - 6:00 PM

Language: English

Venue:

Tai Seng Centre
Date: Saturday, 27 Aug & 03 Sep 2022
Time: 9:00 AM - 6:00 PM
Duration: 2 Days (Once a week)
Language: English

Venue:

Tai Seng Centre
Date:

Saturday, 27 Aug & 03 Sep 2022

Time:

9:00 AM - 6:00 PM

Duration:

2 Days (Once a week)

Language:

English

Tai Seng Centre
Date: Thursday, 08 & 15 Sep 2022

Duration: 2 Days (Once a week)

Time: 9:00 AM - 6:00 PM

Language: English

Venue:

Tai Seng Centre
Date: Thursday, 08 & 15 Sep 2022
Time: 9:00 AM - 6:00 PM
Duration: 2 Days (Once a week)
Language: English

Venue:

Tai Seng Centre
Date:

Thursday, 08 & 15 Sep 2022

Time:

9:00 AM - 6:00 PM

Duration:

2 Days (Once a week)

Language:

English

Tai Seng Centre
Date: Saturday, 17 & 24 Sep 2022

Duration: 2 Days (Once a week)

Time: 9:00 AM - 6:00 PM

Language: English

Venue:

Tai Seng Centre
Date: Saturday, 17 & 24 Sep 2022
Time: 9:00 AM - 6:00 PM
Duration: 2 Days (Once a week)
Language: English

Venue:

Tai Seng Centre
Date:

Saturday, 17 & 24 Sep 2022

Time:

9:00 AM - 6:00 PM

Duration:

2 Days (Once a week)

Language:

English

Tai Seng Centre
Date: Sunday, 18 & 25 Sep 2022

Duration: 2 Days (Once a week)

Time: 9:00 AM - 6:00 PM

Language: English

Venue:

Tai Seng Centre
Date: Sunday, 18 & 25 Sep 2022
Time: 9:00 AM - 6:00 PM
Duration: 2 Days (Once a week)
Language: English

Venue:

Tai Seng Centre
Date:

Sunday, 18 & 25 Sep 2022

Time:

9:00 AM - 6:00 PM

Duration:

2 Days (Once a week)

Language:

English

Tai Seng Centre