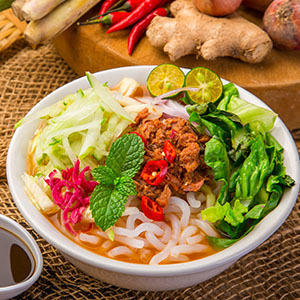 Wonderful Peranakan Dishes (Advanced)
USE YOUR $500 SKILLSFUTURE CREDIT
Nyonya dishes are sure to please with their aromas, tang and spice!
Learn how to make 6 types of  Peranakan Dishes:

Bakwan Kepiting (Chicken & Crab Meatball Soup)

Ayam Sioh (Chicken with Tamarind and Coriander)

Nyonya Assam Laksa (Sour and Spicy Fish Noodle Soup)

Steamed Nyonya Otah (Steamed Spicy Fish Cake)

Fragrant Nasi Ulam (Mixed Herb Rice)

Bonus Demo: Traditional Prawn Popiah
DURATION
COURSE REFERENCE NO.
MODE OF TRAINING
Classroom + Practical (Hands-on)
Please note that bilingual classes are Mandarin-English.
For Courses Starting 1 Jan 2023
Self-Sponsored
Singapore Citizens
PR
Foreigner
> 40


Years old

21 - 39


Years old

$190
$290
$290
$540
Company-Sponsored
Non-SME
SME
Foreigner
> 40


Years old

21 - 39


Years old

$190
$290
$190
$540
Date: Friday, 09 & 16 Jun 2023

Duration: 2 Days (Once a week)

Time: 9:00 AM - 6:00 PM

Language: English

Venue:

Tai Seng Centre
Date: Friday, 09 & 16 Jun 2023
Time: 9:00 AM - 6:00 PM
Duration: 2 Days (Once a week)
Language: English

Venue:

Tai Seng Centre
Date:

Friday, 09 & 16 Jun 2023

Time:

9:00 AM - 6:00 PM

Duration:

2 Days (Once a week)

Language:

English

Tai Seng Centre
Date: Sunday, 25 Jun & 02 Jul 2023

Duration: 2 Days (Once a week)

Time: 9:00 AM - 6:00 PM

Language: English

Venue:

Tai Seng Centre
Date: Sunday, 25 Jun & 02 Jul 2023
Time: 9:00 AM - 6:00 PM
Duration: 2 Days (Once a week)
Language: English

Venue:

Tai Seng Centre
Date:

Sunday, 25 Jun & 02 Jul 2023

Time:

9:00 AM - 6:00 PM

Duration:

2 Days (Once a week)

Language:

English

Tai Seng Centre